An Introduction to Matthias Olmeta's photography
by François Cheval, 2010
Chief Curator of the Nicéphore Niépce Museum, Chalon-sur-Saône, France.
It is there. It is always there; that desire to take a photograph – not a work of art – but a photograph. An object suspended with a future in view; an impassive precursor.The object is always recognisable, biographical, narcissistic and obsessive. Nothing eludes us in this already substantial body of work, because everything is here. After so many years it is part of him: psychiatric patients met in Cuba, transvestite friends, encounters with prostitutes, and finally – most importantly – his family. Add to this list the phallus, the importance of which cannot be excluded, as its story integrates with that of his photography. An object among other objects, an autonomous animal that binds together this little world as an essential hidden presence, dissolving and merging into a monstrous chaos.
We are oblivious as to how it is done, but what results is a Photograph. Chemical and handmade, its very existence defies the industrial act and new technology. We catch a glimpse of elements – which in the past have been regarded with disdain – a love of texture, of the fusion and confusion between sensations and affects. These images subvert the discourse of contemporary critics. As the monochrome nuances of the substance-matter, essential to our perception, are a far cry from a neo-picturalism long gone. The moment the people and objects are impregnated with this hazardous alloy – straight from the 19th century – we are confronted with an almost mystical feeling and forced to contemplate them, hieratic, the consequences of some mysterious recovery.
The photographs cannot be categorized as aesthetic and ascribe little importance to reality. Constantly manipulated they are soiled and damaged, to ultimately become glorified. Above and beyond the filter of a machine, the photographic act enables a life experience to be assimilated and digested.
Confronted with the disturbing and intrinsic beauty of these images, one can become uncomfortable. Clearly under such circumstances it isn't easy to give an elaborated judgement, to remain impassive and neutral about something that evokes desire and disgust , the hallucinatory and mystical. We are not asked to observe these pictures but to absorb them.
These people and objects frozen in his photography as in ice, impose themselves whilst we try – in vain – to find some structure or order. But what one does recognise is an anarchy, an acknowledged disorder, the experiences of a life, abandoning the world for the self. The only thing that seems to have been forgotten, or put aside, is the heavy burden of preconceived ideas that photography has carried around for the last 40 years.
All that remains is the pride and power of the creation, a customised production that won't be constrained by modernity and its conveniences; as if to say we can still follow in the footsteps of a past which has already been explored.
Each image is the extension of works that are no longer, or will no longer be; to describe, define or depict them is of no importance. Objects and people roam without a past or a choice in a closed world, prisoners of an alloy and inscribed in a fine layer which holds the vibration of light.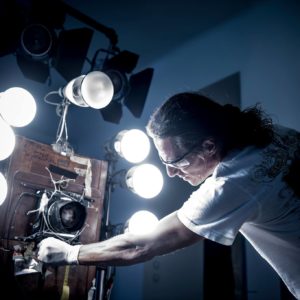 They are interconnected by the power photography has, in the same compound, sometimes marbled, often copper coloured, always frozen. They form a united community which is determined by the orchestrator of this mystical mixture, the photographer.
Here is his world, inaccessible to others and limited by his life and actions. Whether it be transcribed on giant prints or glass plates, an alternative is offered without any other finality but to affirm the photographer's predominance over this world.
In all respects, this photography is an occurrence out of the ordinary – singular and unique. An ode to an extraordinary force and energy, this series of fragments, assembled like a litany of still life, are offerings to the sun and the fire, not to be seen as vanities but rather ossuaries, the relics of the only authorized family, his tribe.